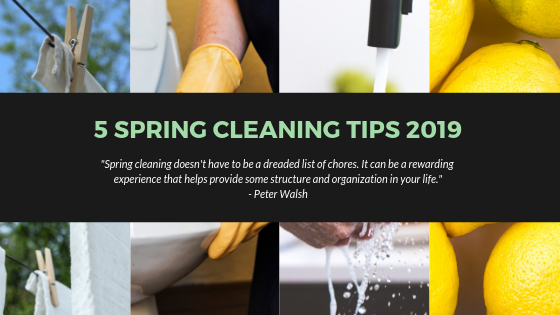 5 Spring Cleaning Tips 2019
With winter slowly coming to an end, It's almost that time of year, SPRING CLEANING! Working in real
estate, we come across many types of homes, organized and unorganized. Not only is keeping an orderly
home beneficial in helping buyers get attracted to your home, when it's time to get those pictures done,
but the atmosphere in general, for any home, in having a clean, decluttered, organized home, has many
benefits (get happier and more productive) and it just feels sooooooo nice! And yes, you'll be thanking
us later. We're about to tackle some basic tips and ways to help you start that journey into starting your
spring cleaning. We'll also briefly mention some fun ways to stay motivated and what you can do,
because let's be honest, this should be the first step; motivation. Here we go!

Tip 1. Get motivated. Open those curtains, put some music on, play a podcast, put on an audiobook, or
another fun idea; listen to different affirmations (e.g., gratitude affirmations) and get into the cleaning
mode; It's about to get real. Set yourself a specific time to get it all done, this will help you stay
motivated and keep you on track. And won't get you into procrastination in thinking how long it will
take, play a game against the clock!

Tip 2. Declutter. Go through your closets and look around your home for items you don't need, never
used, are unnecessary, and let's be honest the biggest deal of them all; clothing you haven't worn in
forever! And almost forgot you had! Put all the items into the donation pile. This step, alone does
wonders!

Tip 3. Get organizing containers. This tip alone goes hand-in-hand with organizing and putting everything
where it belongs. There's nothing better than organizing shelves and storages places. Not only does this
help clean up, but it forces you to have to go through everything, and maybe find more items you don't
need. As you move from area to area, constantly ask yourself the question "how can I organize this?",
this helps organize and clear every nook and cranny in your space. Using containers/boxes helps give a
more overall organized space, and here's the best part; it helps make more room! E.g., here's a start:
store and put into containers; winter blankets, winter hats and scarfs, and those Christmas candles, etc.
Tip 4. Cleaning supplies. Nothing feels better then knowing your cleaning supplies are natural and
healthy for your environment. There are plenty of natural ingredients you can use that'll go a long way.
Vinegar, is an ultimate bacterium removing cleaner! Pour it into a spray bottle, add a few drops of some
essential oils (optional) and there you have it! You can even add in some dish soap, and if you're feeling
extra "spring" add 1 lemon and/or lime with a cup or more vinegar and water.

Tip 5. Get cleaning! At this stage all organizing should be done. Doing all organizing first before the
actual cleaning, helps shorten time and makes the process easier! Make it a mission to clean and dust
every mirror, frame, ceiling fan, and anywhere where dust will cling on to. Vaccuum and mop all areas
and behind furniture (if you can get to it!). This will seem like a lot of work, but it is worth the effort! Use
wood oil and oil any real wood furniture. The vinegar spray can be used for dusting, cleaning the floor,
kitchen and bathrooms! (when tackling the bathrooms grab some baking powder and that vinegar
spray! Pour the baking powder all over the tub/shower, toilet bowl, and then spay the vinegar. The best
part is when it starts to sizzle!